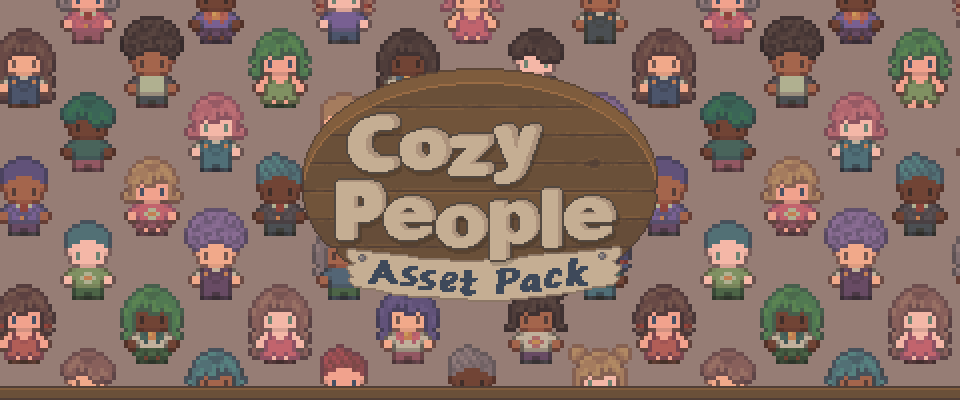 Cozy People Asset Pack
A downloadable asset pack
Looking for animated, customizable player and NPCs sprites for your game?
Choose from 5 skin tones, 10 hairstyles in 14 colors and a variety of clothing options!
This asset pack comes in an easy on the eyes muted color palette, which goes perfectly with Cozy Farm Asset pack and Cozy Interior Asset pack. Want to pick your own colors or implement color sliders in your game? Greyscale versions of all sprites are provided as well. The sprites come in a 32x32 px layout to make layering clothing and hair as easy as possible.
Not using the other Cozy Packs? Never layered sprites before? There's a free version for you to try it out and see if this pack is right for you!

Character sprites are 20x16 px and come in 5 skin tones or grey scale
Walk (8 frames)
Carry (8 frames)
Jump (5 frames)
Hurt (1 frame)
Die (2 frames)
Watering (2 frames)
Pickaxe (5 frames)
Axe (5 frames)
Sword (4 frames)
Fishing (5 frames)
Eye color (16 colors)

13 hairstyles in 14 colors (black, blonde, brown, copper, emerald, green, grey, light brown, lilac, navy, pink, purple, red, turquoise) and grey scale
Bob
Braids
Buzzcut
Curly
Emo
Extra long
French curl
Gentleman
Long straight
Midi wave
Ponytail
Space Buns
Wavy

All clothes come in 10 colors (black, blue, light blue, brown, green, grey, orange/white, pink, purple, red) and greyscale
Basic shirt
Clown costume
Dress
Floral shirt
Overalls
Sporty shirt
Sailor shirt
Skull shirt
Spaghetti top
Spooky costume
Stripe shirt
Witch Dress
Suit
Pants
Skirt
Shoes

Beard (14 colors)
Blush (5 colors)

Earring green and red stone/ silver and gold
Glasses and sun glasses (5 colors)
Lipstick (5 colors)
Lucky hat
Cowboy hat
Witch hat
Pumpkin hat (orange/ purple)
Mask clown (blue/red)
Mask spooky

Make your NPC say or think their mood with 15 different speech or think bubbles!

Unimpressed
Angry
Surprised
Relaxed
Cool
Happy
Tired
Flirting
Love
Upset
Embarrassed
Amused
Annoyed
Crying
Pleased
Planned Updates
Animations: Axe, Sword, Fishing
Hairstyles (bob, long straight, ponytail)
More hats
Shirt skull, stripes, spaghetti top
Download
All sprites come in PNG format
All PNGs come in a 32x32 layout for easy layering
The asset is divided into folders based on animations
Greyscale provided
Exterior tiles are used to show characters in an environment and are not included
Free version includes Character2 walk left and right, shirt, pants, shoes and pumpkin hat in purple
_________________________________________________________________________
Complete version license (paying at least $3.99):
This asset pack can be used in any commercial or non commercial project, you may modify the assets as you wish. This asset pack can't be resold or redistributed even if modified.
Free version license:
This asset pack can be used in any non commercial project, you may modify the asset as you wish. This asset pack can't be used in any commercial project, resold/redistributed, even if modified.
Credit appreciated (this link)
_________________________________________________________________________
Other asset packs you might enjoy:
Download
Click download now to get access to the following files:
if you pay $3.99 USD or more