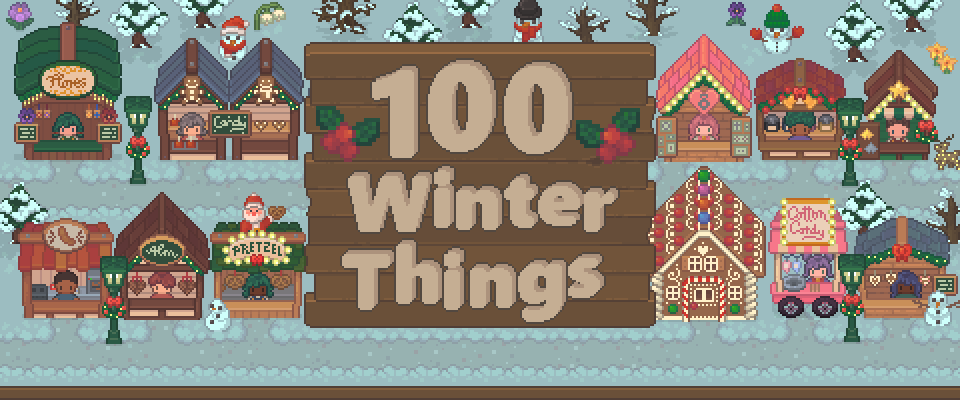 100 Winter Things
A downloadable asset pack
Is it Winter already? Time to get your NPC's ready for some Holiday Spirit! Here are 100 things you might just need in the Snowy Season!
All sprites follow a 16x16 layout. Snowmen and Trees 32x32.

Some NPCs might not build the best snowmen, but they are charming nonetheless!
Small Snowman
Snowman with Gloves
Snowman wearing Top Hat
Snowman with Beanie
Santa Snowman
Messed Up Snowman
Snow Cat
Snow Dog
Melting Snowman
Melted Snowman
Can you even call it Winter if your Town doesn't have Glowing Lights and Holiday Decorations?
Animated Festive Streetlights

2x Wreath (Bow/ Star)
Candle
Light Holiday Tree
Light Deer
Green Holiday Ornament
Red Holiday Ornament
Golden Holiday Ornament + combined Version
Holiday Stocking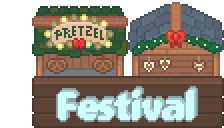 Meet the local Cutie selling her handmade jewelry, is that the Carpenter selling Decorations over there?
Animated Gingerbread Heart Stand
Mulled Wine and Hot Chocolate Stand
Animated Roasted Almonds Stand
Animated Jewelry Stand
Animated Decoration Stand
Sausage Stand

Animated Candy Apple and Gingerbread Man Stand
Animated Pretzel Stand (with and without Santa Decoration)
Animated Cotton Candy Stand
Animated Flower Stand

Buy them to support local business or to surprise your favorite NPC's with a Holiday gift, these items are sure to warm frozen hearts!
Candy Apple
Roasted Almonds
Hot Chocolate
Mulled Wine
Eggnog
Snow Globe (Snowman, Pine Tree, House)
Little Rudolph
Sitting Santa
Mood Ring
Engagement Ring
Necklace with Blue Gem
Cotton Candy (pink, blue yellow)
Pretzel
Hot Dog
Native Scene King
Native Scene Angel
Native Scene Jesus
Native Scene Shepherd
3x Native Scene Wise Men
10x Flower Seeds (see Flowers)

Yummy! All cookies come with an additional bare version for you to decorate!
Candy Cane
Sugar Cookie Tree (green/white)

Sugar Cookie Heart (white/pink)
3x Sugar Cookie Snow Flake
3x Gingerbread Man (normal, bow, scarf)

4x Gingerbread Heart (2x White Frosting, Flowers, Candle)
Cinnamon Star
Chocolate Kiss
Wrapped Chocolate Kiss
Peppermint

Have you already romanced your favorite NPC and it's time to celebrate together? Or maybe you just want to participate in the yearly Secret Santa?
2x Rectangle with Small Bow (green, blue)
2x Square with Floral Bow (purple, red)
Wide Cylinder with Big Bow (white)
2x Wide Cylinder with Medium Bow (Red, Blue)
Large Rectangle with Big Bow (green)
Tall Cylinder with Medium Bow (white)
Short Cylinder with Small Bow (yellow)

You might already know them from "100 Nature Things"! Here they are again but missing leaves and all snowy!
Apple Tree
Orange Tree
Birch Tree
Pine Tree
Plum Tree
Pear Tree
Dragon Tree
Cherry Blossom Tree
Cursed Tree
Old Dead Oak Tree

You just have to thank Nature for providing flowers even in the coldest Season! What a Holiday Miracle!
Crocus
Leucojum
Viola
Winter Jasmine
Scilla
Holly
Kaffir Lilly
Poinsettia
Amaryllis
Cymbidium Orchid

Maybe the local free spirit loves to build an igloo and ice fish while the elderly lady next door turns her house into a Gingerbread house? Or it's date night at the ice skating ring?
Gingerbread House
Animated Holiday Pyramid
Snow Wall for Snowball fight horizontal and vertical
Pile of Snowballs
Snowball
Sled
Igloo
Animated Ice Skating Ring
Ice Fishing Hole
Snow Angel
Download
Characters are shown as example and are not included
This pack is meant as an addition to Cozy Farm/ Cozy Fishing. Snow Tile is used to show sprites in environment and can be found in Cozy Farm
All sprites come in one global PNG. Animations feature an additional gif version

An additional PNG with shadows is provided
Free Version includes: 1x Snowman, 1x Festival Stand, 1x Gingerbread Man, 1x Flower
Resources
Characters - Cozy People
Screenshot 1&2: Snow Tile - Cozy Farm
Screenshot 3: Path - Cozy Farm
________________________________________________________________
Complete version license (paying at least $3.99):
This asset pack can be used in any commercial or non commercial project, you may modify the assets as you wish This asset pack can't be resold or redistributed even if modified
Free version license
This asset pack can be used in any non commercial project, you may modify the asset as you wish This asset pack cant be used in any commercial project, resold/redistributed, even if modified
Credit appreciated (this link)
________________________________________________________________
Other asset packs you might like
Download
Click download now to get access to the following files:
if you pay $3.99 USD or more